CSC Roofing, LLC is a licensed general contractor in Alabama specializing in the installation of commercial roof systems including metal and slate. We also provide metal fabrication and roof maintenance services. We have a dedicated repair crew that can take care of your roof emergencies 24 hours a day, seven days a week. CSC Roofing is certified to install most national roofing manufacturer's products.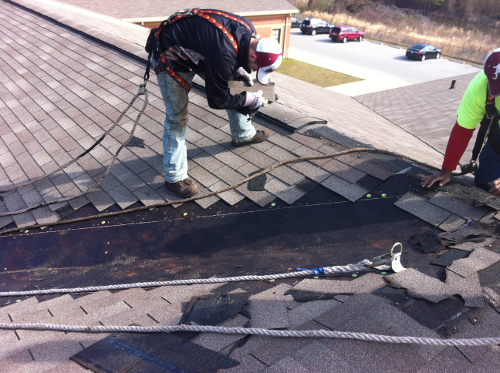 History
CSC Roofing was started in 2004 by Morris Culberson with the intent to provide the highest quality service combined with the industry's highest quality products. It is our goal to exceed our customer's expectations daily. 
Experience
With over 100 years of combined experience in construction and commercial roofing and sheet metal, we have the staff to handle any project big or small. We continue to provide our employees with training to keep them up to date on the latest products and installation techniques. 
Safety
At CSC Roofing, safety is our top priority. We pride ourselves in having one of the safest workplaces in the roofing industry. You can rest assured that when we are on your project, your site is 100% OSHA compliant. We have a staff certified to train employees in crane signaling, rigging, aerial lift operation and forklift operation. Every employee at CSC Roofing has OSHA certified training. 
Quality
At CSC Roofing, we install the industry's highest quality products. CSC Roofing is a certified installer for Carlisle Roofing Products, American Weatherstar Roofing Products, Soprema Roofing Products, Peterson Aluminum Corporation, Atlas Roofing Products and others. We are also a GAF Master Select certified installer. So whether you needs are for a built up roof system, a single ply system or a metal roof system, CSC Roofing has you covered. By being certified installers, you can be certain that your roof system will be installed to manufacturer's warrantable standards. We follow SMACNA guidelines and design criteria in all our metal fabrication and installation. 
Projects
CSC Roofing has completed projects such as the New Pachyderm Enclosure at the Birmingham Zoo, Daniel Paine Middle School, the New Chlorination Building for the Birmingham Water Works Board and the new Gardendale Public Safety Building to name but a few.

Community
At CSC Roofing, we strive to give back to our communities. We have been involved in several community volunteer projects including Habitat for Humanity, Boys Scouts of America and others. The staff of CSC Roofing also provides the leadership for the National Veterans Day events in Birmingham. If you or your company/organization is interested in helping or participating in the Veterans Day events, please contact us either at our office or visit our website at www.nationalveteransday.org. We also operate a service to provide for the needs of deployed servicemen and women. This may include hygiene products, foods and reading material but is focused on their specific wants or needs. Again, if you or your organization would like to assist us in this, please contact our office. 
Associations and Organizations
CSC Roofing, LLC is a member of Associated Builders and Contractors, Subcontractors Association of Alabama, and American Welding Society.
Summary
CSC Roofing has the experience and expertise to handle all your roofing and sheet metal needs. We have a complete sheet metal department that can fabricate your metal designs up to 16 gauge mild steel. We can install any type roof system including BUR, TPO, PVC, EPDM, shingles, slate and metal. 
Officers
President- Cathy Culberson
B.S. Environmental Design- University of Alabama
Vice President- National Veterans Day in Birmingham
Member- Riverchase United Methodist Church
Vice President- Mark Ryan
Master Sheet Metal Journeyman- United States Department of Labor
Certified Asbestos Abatement Instructor- Ohio State University
Certified Asbestos Abatement Supervisor- University of Alabama
Certified Lead Abatement Instructor- University of Alabama
BURSI certified
OSHA certified trainer- crane rigging
OSHA certified trainer- crane signaling
OSHA certified trainer- aerial lift operation
OSHA certified trainer- rough terrain forklift operation
Former President- Tarrant School Board
Former District 5 Treasurer- Alabama Association of School Boards
Former Nominating Committee Member- Alabama Association of School Boards
Former Director of Apprenticeship and Training- Sheet Metal Workers Association in Birmingham
Chairman- Deacon Board of Mount Calvary Baptist Church
President - National Veterans Day in Birmingham